Site da V Magazine mostra looks marcantes da carreira marcante da rainha do pop, Madonna, que chega aos 58 anos.
There's A Reason They Call Her The Material Girl—in Honor Of Madonna's 58th Birthday, We Delve Into Her Aesthetic Archive
Whether it was her wedding dress-clad performance of "Like A Virgin," smooching Britney and Christina on stage at the MTV Video Music Awards, or dressing like Marilyn at the Oscars, Madonna has gone down in history as one of the most influential and controversial artists of our time.
As much as we love her Music, much of that is thanks to her boundary-pushing aesthetic choices, often cited as one of the first female superstars to bridge the gap between fashion and music (and film! Who could forget her career-defining performance in Who's That Girl?). From her Jean Paul Gaultier corsets to her incorporation of religious symbolism into her tour wardrobes and music videos, she taught a generation to express themselves, as a driving force of fashion in the '80s, '90s, '00s, and even into today.
Scroll below for a few of our favorite looks from her Madgesty's iconic costume canon.
Her signature "Like A Virgin" dress made headlines at the 1984 MTV Video Music Awards.
Three decades before Beyoncé smashed cars in her canary yellow ruffle dress in Lemonade, Madonna donned a rose red version in her 1986 video for "La Isla Bonita." Swoon.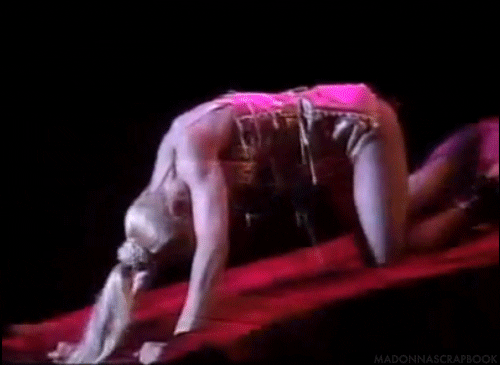 The infamous cone bra from her 1990 Blond Ambition tour, designed by Jean-Paul Gaultier, who viewed Madonna as a muse of sorts.
While many parallels could be drawn between Madonna and Marie Antoinette (the shoes, the lavish lifestyle, the consistent beheadings at the hands of the public), none are as strong as the look she donned for her "Vogue" performance at the MTV Awards in 1990.
As that you, Marilyn? No, it's Madonna at the 1991 Oscars—but the resemblance is uncanny. Her best accessory, though, was her date: Michael Jackson.
Madonna's 1986 music video for "Open Your Heart" introduced the world to her infamous bustiers, which would later inspire her 1993 Girlie Show tour—and provide sequined blueprint for many a modern pop star to follow.
Equal parts Belle and bride of Frankenstein, Madonna donned a show-stopping Olivier Theyskens gown at the 1998 Academy Awards, and the fashion world swooned.
The cultural appropriation may have been questionable, but Madonna's cherry red Jean-Paul Gaultier kimono in her 1998 "Nothing Really Matters" music video (later worn to the 41st annual Grammy Awards in 1999) was unforgettable.
Just moments before the kiss seen 'round the world, Madonna strutted her stuff in an all black ensemble at the 2003 MTV VMA, blurring gender boundaries and proving that she was on top.
Even the most outré dressers need a minimalist moment every once in a while—and none know this better than Madonna. This feminine, silk getup at the Vanity Fair Oscar Party in 2006 was a breath of fresh air.
Madonna brought the theme to life at the "Model as Muse" MET Gala in 2009 wearing one of the that year's standout spring collections, Louis Vuitton by Marc Jacobs.
Queen M was, fittingly, the most rebellious dresser at the 2013 punk Met Gala in her plaid studded Givenchy look.
Critics agreed that Madonna was in top form on her 2015 record, Rebel Heart, and her fashion was in top form in her "Living for Love" video. You try pulling off a cape at 50!